Login
Log in if you have an account
Dont have an account? Register
Payment Methods
In order to ensure that payments are made properly, we work with Mutlisafepay as our payment provider. Through this payment provider we offer the following possibilities to pay:
With us you can pay in several ways:
-Ideal With iDEAL you trusted, secure and easy online purchases. So please direct use iDEAL, without you having to log on. IDEAL is a frequently used online payment method in the Netherlands
-Mister Cash, Mister Cash you trusted, secure and easy online purchases. Mister Cash is a generally accepted method of payment in Belgium. The payment start by entering the card number printed on the front side of the bank card and its expiration date. Then the payment must be confirmed by the security agent of the bank customer. For example, a card reader with PIN.
-SOFORT Banking, this is an easy and safe online payment method. Payment is easy via internet banking and is available for Germany, Austria and Switzerland.
-Giropay, is an online payment platform from the German banks, which is based on the existing German online banking system, and was designed especially for use in E-commerce environments.
-Credit Card is securely pay online wherever and whenever you want. You can pay by VISA or Mastercard, this purchase is further assured by the credit card company.
-Banktransfer, You follow closely the payment instruction you receive. Abnormalities in contributions and / or descriptions / reference ensure that the payment provider can not place the amount. The amount is then paid back to you.
---------
If the above does not work for some reason, you can always transfer the amount via online banking. You yourself transfer the total amount of your order, stating your order number.
Bank: RABOBANK
IBAN: NL97RABO0377562467
BIC: RABONL2U
CEK Gymnastics
Ter Steeghe Ring 115
3331 LX Zwijndrecht
the Netherlands
+ 31- (0) 78-6191000
---------
Of course you can also visit us at the store.
-Pay at pickup, you pay in our store in cash, with pin, with VISA or MasterCard. Payment at pickup is not possible if you have selected items that are specially adapted, composed or made for you. You must then pay the full amount in advance.
---------
-Handing in a gift voucher, if you have a gift voucher from CEK, this can be redeemed by entering the special internet code on the back of the gift voucher at the checkout. The total amount of your shopping cart will then be adjusted automatically.
(If the code does not work, please contact us via i[email protected] and mention the gift card number and the valid date until we will contact you.)
---------
-Using promotional code, sometimes you will receive a promotional code via social media and the newsletter. Enter the promotional code during checkout and the total amount of your order will then be adjusted automatically.
To be able to use an action or discount code, after you have chosen your articles, you can enter the code at the 2nd step in the ordering process, in the shopping cart (see screenshot 1 below).
1) Enter your promotional code here (When entering the code, it is wise to copy and paste the code so that you do not make mistakes with, for example, capital letters or numbers).
2) Then press the "apply" button. (The amount to be paid will be immediately reduced by your discount.)
If you skip or forget this step, you can always add the discount code during checkout (see screenshot 2 below).
Screenshot 1.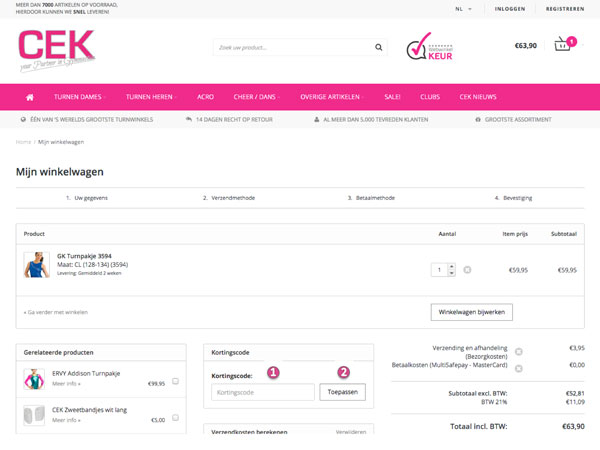 Screenshot 2.